Meet Dolan Jablonski – Owner
Dolan meets the insurance needs of individuals and businesses by having access to more than 50 insurance carriers.
With more than 15 years in the client services industry Dolan enjoys building relationships and protecting what people have worked so hard to achieve, tangible and intangible.
Dolan focuses on identifying clients' needs and exposures and developing a policy that ensures their protection.
Available policies and programs include home, auto, disability, life, umbrella, personal articles, boat, RV, and the ability to write insurance for any business.
Dolan lives in East Lake with his wife Melanie and 2 boys, Jake and Wes.
Meet Steven Bott – Agent
Steven offers 6 years of insurance experience in a claims capacity role as well as a Risk Management and Insurance degree from the University of Georgia. Steven will be able to meet your insurance needs with access to multiple insurance carriers and a range of limits. Steven has always been a part of the customer service industry and he is looking forward to creating and growing long term relationships with his clients.
Steven's claims background will allow him to assist in ensuring your needs are adequately insured and protected for years to come.
The Oak Insurance Group solves each individual client's needs whether they be personal, commercial, or life insurance related.
Too many clients have to separate their insurance needs among different agencies. The Oak Insurance Group is the solution to this problem.
The Oak Insurance Group is a one stop shop for clients to address all of their insurance needs. The Oak Insurance Group delivers a range of insurance options that address exposures faced by businesses and individuals who want to reduce their financial worries while continuing to protect their livelihoods. As an independent agency, we aren't limited to one company's products; rather, we have access to a broad array of insurers and coverages enabling us to provide customized policies to meet each individual and business specific situation and needs.
At The Oak Insurance Group we are confident that what we do can change people's lives and their circumstances. We are committed to maintaining a high standard of excellence to establish mutual trust and bring peace of mind to each of our valuable clients.
We Care About You
At The Oak Insurance Group we are confident that what we do can change peoples' lives and their circumstances. We are committed to maintaining a high standard of excellence to establish mutual trust and service to each of our valuable clients.
Full Protection Insurance
30 Years Experience
Professional Agents
Great Customer Support
Why do business with The Oak Insurance Group?
Unlike a captive, or direct insurance company who only offers their own proprietary products, our agency is 100% independent of any one company. Many insurance consumers don't fully understand just how important that really is.
When it comes to something as important as insurance, it's imperative that you work with an agency who has an in-depth knowledge of multiple insurance products, companies, and guidelines — not just one.
At the end of the day, what separates one agent from another, is their ability to proactively service their policy holders, and their knowledge of the insurance industry, products, and different situations that may present themselves to their clients.
Independent Agent Vs. The Rest
Here is a quick comparison of the differences between an independent agency like us, and the various other types of companies that are out there: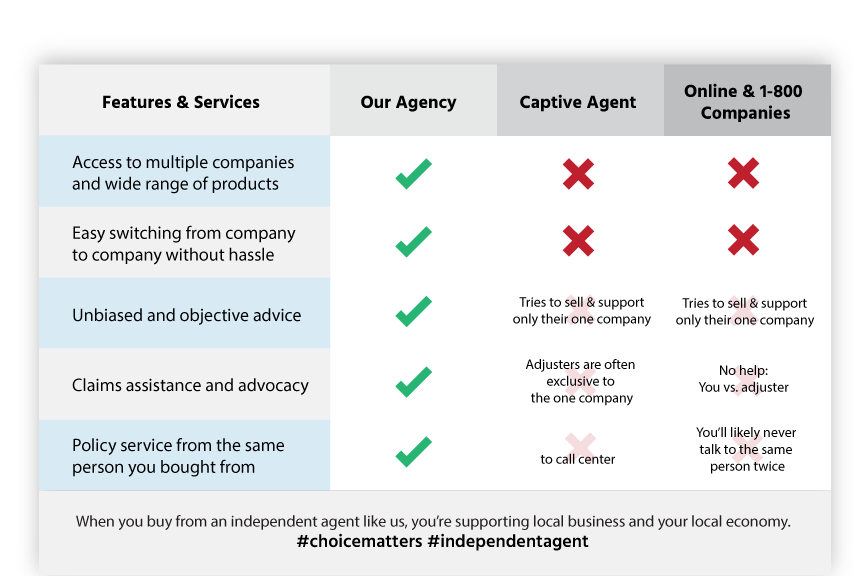 If you'd like to get started with a complimentary quote and/or policy review, we'd be happy to help you any way we can. Simply complete the fields below to get started online in a matter of seconds.
We appreciate the opportunity to help you, and look forward to servicing your insurance needs! Feel free to call us directly if you have more detailed questions.